"UNDRESSED" SHOOTING GAME.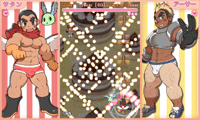 Introduction:

In the SUGAR KINGDOM somewhere eles,
there live THE PRINCE SATURN and THE SERVANT FRAY happily
eating yammy snacks and sweet treat.

One day, four greedies come there from another world
and start to eat every possible food like a pig!!

To save candies, the prince saturn stands up to beat them...

Sample play movie:
http://www.youtube.com/watch?v=RPYmY4lJ1QI


- Written in JAPANESE
- OS : Windows XP SP3
- CPU : over 2.0GHz
- MOMORY : over 256MB required




Order now while supplies last.