Powered up!! "UNDRESSED" SHOOTING GAME vol.2 !
with a post card!!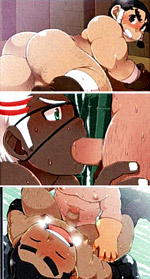 Introduction:

In the SUGAR KINGDOM somewhere eles,
there live THE PRINCE SATURN and THE SERVANT FRAY happily
eating yammy snacks and sweet treat.

One day, his male wives were magic spelled by a stranger boss
and became OMANJU ( a Japansese traditional cake)

To save his male wives, the prince saturn stands up and go to
JAPAN SWEET "ZIPANG" KINGDOM

- Written in JAPANESE
- Windows Minimum System Requirements
Windows XP/Vista/7
CPU: 2 GHz Intel Pentium 4 / AMD Athlon 64 Processor
Momory: 1GB RAM
HDD: 600MB
DirectX 9.0c
Sound: DirectX 9.0c compatible sound card

- Mac Minimum System Requirements
Operating System: OS X version Leopard 10.5.8, Snow Leopard 10.6.3以上
CPU : 1.8 GHz Intel Processor
Momory: 1 GB RAM
HDD: 600MB




Order now while supplies last.