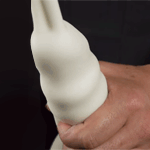 The forth version of LONG SLIDE, a huge hit masturbating hole!!

Wrap and slide all of the genital parts
with this super stretchy masturbator!!

- 130% heavier and rich material
- 3 dimension screw and vacuum structure
- RING type at balls parts

This unique construction will stimulate you like never before.